Microbial Biochemistry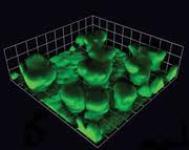 Submit Abstract
Register Now
Microbial biochemistry involves biochemical reactions of microbial growth and modes and mechanisms of pathogenesis in causing infection in host. It is the study of microbial growth, microbial metabolism and microbial cell structure deal with structures, functions and interactions of biological macromolecules like proteins, nucleic acids, carbohydrates and lipids, which provide the structural entity and basis of functions associated with life. Biochemical study of microbes is essential in the mechanisms of their action. Post genomic analyses of broad range of host plasmids, functional replication, maintenance of mechanisms, conjugation systems and regulatory network integrating plasmid functions plays a vital role in metabolism of microbes. Nutritional deficiencies of cultural medium can also be determined by the chemical methods.
Related Microbiology Conferences | Clinical Microbiology Conferences | Conference Series LLC
World Congress on Mycotoxins February 27-28, 2017 Amsterdam, Netherlands, 9th International Virology Congress and Expo March 13-15, 2017 London, UK, 10th World Congress on Virology and Mycology May 11-12, 2017 Singapore, International Conference On Microbial Engineering May 29-31, 2017 Beijing, China, Global Pharmaceutical Microbiology Conference June 19-20, 2017 London, UK, International Conference on Fungal Diseases & Control September 25-26, 2017 Dubai, UAE, 7th Annual Congress on Clinical Microbiology August 28-30, 2017 Philadelphia, USA.
Chemical Biology
Chemical Microbiology
Microbial metabolism
Microbial Genetics
Microbial Assay
Related Conference of
Microbial Biochemistry
Microbial Biochemistry
Conference Speakers
Recommended
Sessions
Related
Journals
Are you
interested

in