Antimicrobial Agents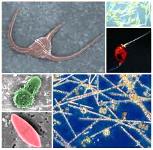 Submit Abstract
Register Now
Antimicrobials are agents killing or inhibiting the growth of microorganisms and are grouped as antibacterial, antivirals, antifungals and antiparasitics. Antibacterial used to treat bacterial infections are termed as antibacterial, treating virus are termed as antivirals and hence antifungals and antiparasitics are respectively for fungi and parasites. The toxicity of antibacterial to humans and other animals is generally low. Antimicrobial pesticides control growth of microbes by the use of disinfection, sanitation, or reduction of development and to protect industrial processes or systems, surfaces, water, or other chemical substances from contamination, spoiling caused by bacteria, viruses, fungi, protozoa, algae.
Related Microbiology Conferences | Clinical Microbiology Conferences | Conference Series LLC
World Congress on Mycotoxins February 27-28, 2017 Amsterdam, Netherlands, 9th International Virology Congress and Expo March 13-15, 2017 London, UK, 10th World Congress on Virology and Mycology May 11-12, 2017 Singapore, International Conference On Microbial Engineering May 29-31, 2017 Beijing, China, Global Pharmaceutical Microbiology Conference June 19-20, 2017 London, UK, International Conference on Fungal Diseases & Control September 25-26, 2017 Dubai, UAE, 7th Annual Congress on Clinical Microbiology August 28-30, 2017 Philadelphia, USA.
Antibacterials
Antivirals
Antifungals
Antimicrobial resistance
Antimicrobial pesticides
Related Conference of
Antimicrobial Agents
Antimicrobial Agents
Conference Speakers
Recommended
Sessions
Related
Journals
Are you
interested

in