Venue & Hospitality
Holiday Inn Rome Aurelia Via Aurelia,Km8, 400, 00165 Rome, Italy Phone: +39-06-6641 1200
Conference Dates: October 20-22, 2016
Hotel Services & Amenities
Audio/Visual Equipment Rental.
Business Center.
Business Phone Service.
Complimentary Printing Service.
Express Mail.
Fax.
Meeting Rooms.
Office Rental.
Photo Copying Service.
Secretarial Service.
Telex.
Typewriter.
Video Conference.
Video Messaging.
Video Phone.
ATM.
Baggage Storage.
Transportation
Driving Directions to
Leonardo da Vinci Fiumicino( FCO)

Distance: 13.05 MI/21.0 KM NORTH to Hotel

Fom Fiumicino airport drive to the junction to Roma, continue on Highway A 91, take exit to Florence/Aurelia and continue to the ring road A90, take exit 1 to Roma/Centro/Aurelia/Porto Civitavecchia, continue to via Aurelia until your destination.

Aeroporto Internazionale G.B. Pastine di Ciampino( CIA)

Distance: 16.16 MI/26.0 KM SOUTH EAST to Hotel

From Ciampino Airport take the link to the ring road A90/E80 to Ardeatina/Pontina/Fiumicino/Porto Civitavecchia and drive 23 km, take exit 1 to Roma/Aurelio/Città del Vaticano get on via Aurelia /SS1 until your destination.

Train

From Aurelia Station take via Aurelia SS/1 going northeast, after 900 meters make U-turn , take via Aurelia SS/1, turn on the right in via Bogliasco situated between Agip gas station and the Panorama supermarket.

Station Name:aurelia

Distance: 1.55 MI/2.5 KM WEST to Hotel

Taxi Charge (one way):€0.00 EUR

Subway

From the subway station proceed towards southeast from via Ennio Bonifazi, take via Padre Anastasio Gutièrrez then via Gregorio XI , via Michele Pironti continue via Michele Pironti to strada statale 1, take Via Bogliasco located between the Agip gas station and the Panorama supermarket.

Subway Station Name:Cornelia

Distance: 2.42 MI/3.9 KM SOUTH to Hotel

Taxi Charge (one way):€15.00 EUR

Route Map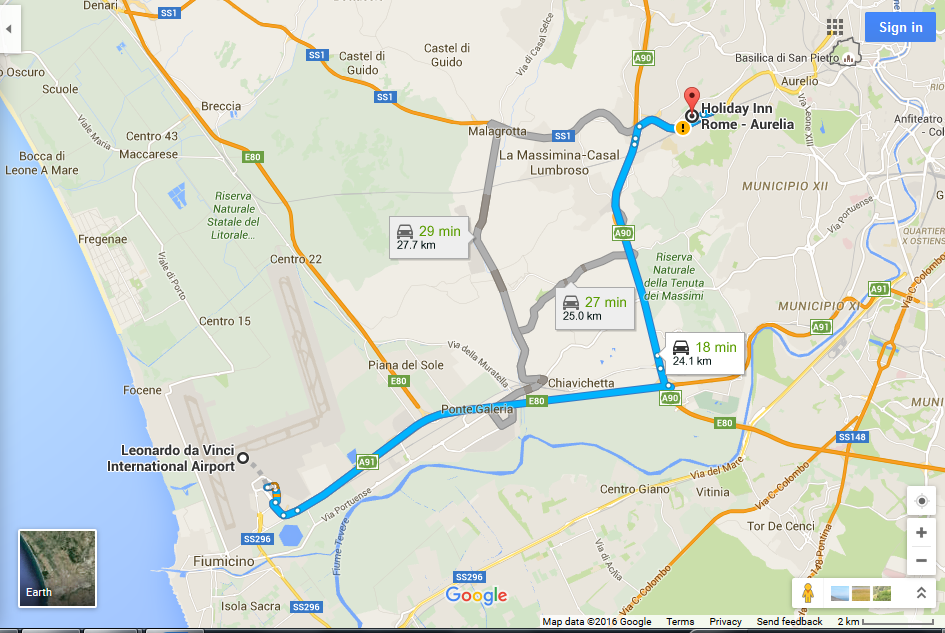 About City
ROME, home of the Catholic Church and the Italian government, is placed on the banks of the Tiber, there where the river, running weakly among the seven hills, creates vast meanders which originate little plains.Rome is today the biggest and most populous city of Italy.
Located in the middle of the Italian peninsula, the city is easily accessible from most important places both in Italy and abroad. Fiumicino airport (also called Leonardo da Vinci), 26-km south-west of Rome, is the airport for both international and domestic air services.The best times of the year to visit are April, May, and late September through October.
There is no need to persuade people about the magnificent atmosphere of Rome - The Eternal City. Its glorious past still lives in every corner of this beautiful city. The ancient is mixed with the modern, and what results is something better than both.Rome is a vibrant city, a center of culture, art and businness. Walking through Rome is like stepping into the past, and experiencing the Story of a city and a culture that has influenced almost every part of the world.